Today my husband and I celebrate 14 years of wedded bliss. Which makes today one of my favorite days of the year. As I've shared here a few times, I just love this guy. And, as I've shared before, I love the lovin'.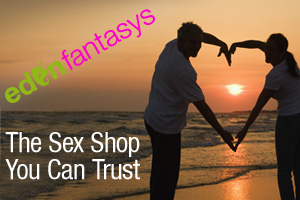 So I was really happy to have the opportunity to add
EdenFantasys
to my list of sponsors. They have some really fun and exciting products. If you're looking for a place to check out some new adult products to spice up your relationship, I definitely recommend this site.
The site is very easy to navigate. Depending on what you're looking for, they have a category for it. They offer toys for women and for men, a wide variety of lubricants, massage oils, sensual games, and a great selection of lingerie.
I also really like that the products have reviews from actual users. Sure, I like to hear the specs about something that I'm buying, but having an opportunity to see what real couples say about a given product is far more beneficial. I can easily go to the site and see how an item is rated and even sort out the top 10, 50 or 100 products in a given category, which can help narrow down the search a bit.
If spicing up your love life is on your New Year's Resolution list, EdenFantasys is a great place to make that start!
Keep your eyes open for a giveaway from EdenFantasys coming soon (don't worry - it will be in time for Valentine's day)!
Disclosure: I received a gift card for my review of EdenFantasys.com however, I have offered my honest opinion here.You can read my full disclosure here.