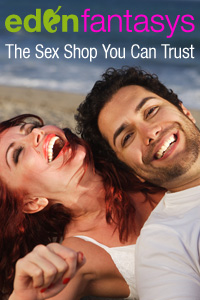 One of my favorite methods of foreplay is sensual massage. The feel of skin-on-skin helps you to connect to your partner in a really fantastic way. The JimmyJane Afterglow Candle is a lovely way to make this special because it is both a candle and a massage oil. The flickering candlelight helps to set the mood and the musky vanilla scent adds to the ambiance. This isn't so much for the quickies, but if you're looking to spend some time exploring your partner's body, sensual massage is wonderful and I found the Afterglow candle to be really helpful. The Afterglow candle is free of paraffin and dye and has a lead-free wick. It also has no phthalates, parabens, sulfates, petrochemicals and animal products which means that it should be acceptable for most skin types.
When you light the candle, it takes about 30 minutes for the candle to melt into a massage oil. When the oil has melted, you blow out the candle and pour the oil directly onto your partner. I was concerned that it might be too hot, but honestly, it was very nice. The texture of the oil was really delightful and it worked well as a massage oil. It moved silkily over the skin and a little bit went a long way. I didn't find that I needed to add tons of oil to my husband in order to have a nice massage. It didn't leave any kind of sticky residue and it soaked into the skin well. I didn't find that it stained our sheets in any way. The scent was very nice, both in the room and on the skin later. It was a bit muskier than a normal scented candle, but I didn't find that it was tremendously overpowering.
It does take a while for the oil to melt, particularly in the cold weather. I would be interested to see how it holds up in warmer weather. After about half an hour, we were able to use the oil. I loved that we didn't need to use very much for a nice massage and that it soaked into the skin well. I didn't find any need to wash the product off because it soaked into the skin well, but if you don't care for the lingering scent, I could see wanting to remove it.
This product was a bit pricey, which to me is the biggest turn-off and why this is something that I would use a little less frequently than I might like. But if you're looking for a way to add a little spice to your relationship, I would recommend checking this out.