This post is intended for adult eyes only. So if you're under 18, I'd appreciate it if you'd check out something else right now. Thanks!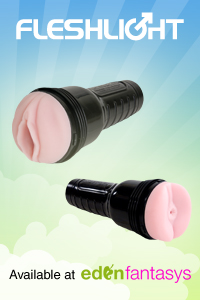 I've been a fan of adult toys in the bedroom for me for quite some time now. Granted, I waited a long time before I got my first vibrator, but since that first time, well, let's just say that over the years I've amassed quite a collection. Especially thanks to the fine folks over at
EdenFantasys
.
But we never bothered to look for anything for my husband. Years and years have gone by and while I've been vaguely aware of their existence, I never spent much time thinking about what a sex toy for him might mean. I eventually realized that I hate double standards, especially in the bedroom, and after hearing nothing but good things about it, I decided to purchase him a
Fleshlight
.
According to him, there is a reason why this is a best-selling male sex toy!
The Superskin material is very life-like. By adjusting the cap at the bottom of the flashlight portion of the product, you can increase or decrease the amount of suction that you receive. This can actually be fun to play with when using it as a couple. It seems to be stretchy and yet still snug. Based on his reactions when using it, I would say that it is an enjoyable experience! It can be a little bit of a pain to clean up and it's not the most discreet thing (it's a flashlight, yeah, but gigantic and pretty obviously NOT a flashlight!), but when it comes to actual use, it's quite nice!
I had concerns that this would be strictly a solo device, but it's actually been something that we enjoy using together. That said, I appreciate that he now has some options when we are apart. If you're just making your way into the arena of male sex toys, I think this is one that is worth checking out!
Disclosure: I was compensated by EdenFantasys.com in the form of a gift certificate for this post, however my opinions are 100% my own.